BlackVue Cellink-B Battery Pack
BlackVue Cellink-B Battery Pack
BlackVue Cellink-B Battery Pack
Product Description
Advanced Power Control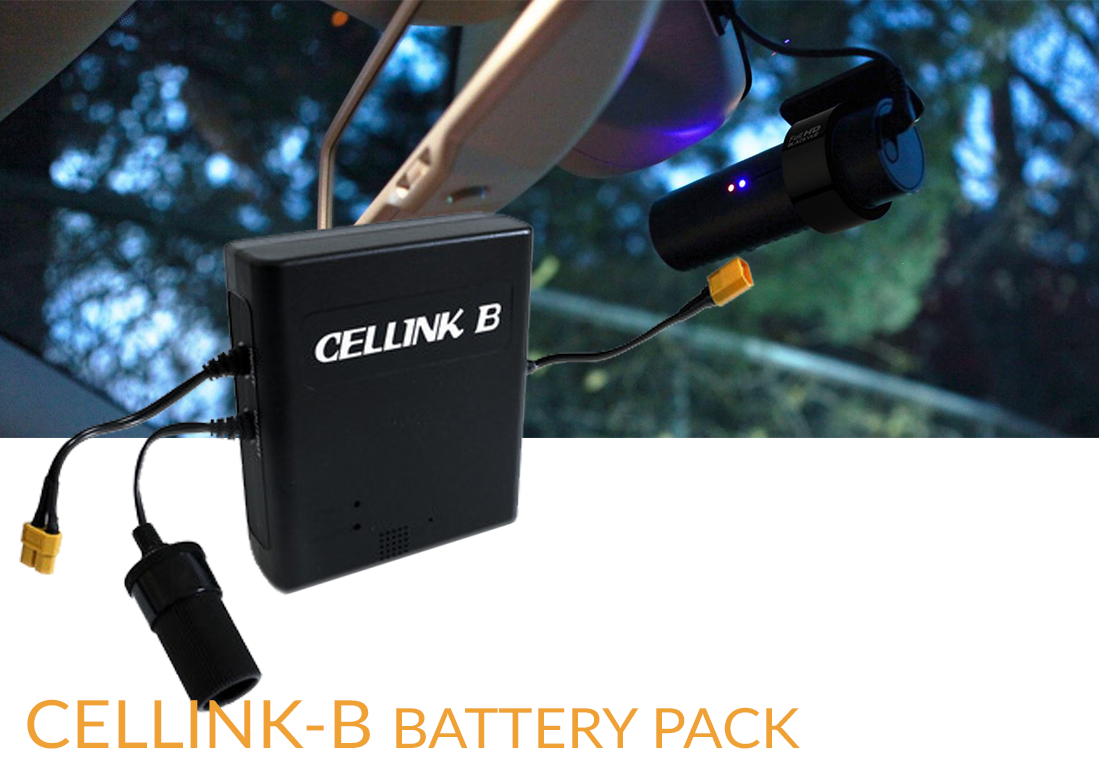 Why CELLINK?

The CELLINK-B is renowned as the very best and leading dash camera battery pack for cars. The system was specially designed for use in BMW cars to prevent low voltage warnings. The system is now used in many different high-end vehicle brands and works to offer the user a long duration of CCTV video recording with their dash cam, after only 1 hour of driving time.

The high quality lithium-iron phosphate battery means the system can reach temperatures of up to 70'C degrees before the internal computer automatically shuts the system off safely.

The CELLINK-B is also very high quality with exceeding reliability and performance, it also offers the longest amount of recording time compared with any other model. Running times include ~20hrs+ for a DR650GW-2CH and ~34hrs+ for a single channel dash camera (DR650GW-1CH).

The new CELLINK-B is an advanced mobile power station for your dash camera - this is the latest 2016 model by the Korean manufacturer, Egens Co. This model replaces the highly renowned original CELLINK-B series 1 model which has built such a strong reputation.

How Does it Work?

The system works by charging a high quality lithium-iron battery when your car is running. When your car is turned off, the charged battery is then used to provide continuous 12V power to your dash camera without the need to drain any power from your cars battery. This process is very effective in reducing the risk of battery discharge, low voltage warnings and flat batteries.

Because the CELLINK-B charges using your cars alternator only, it puts zero strain on your cars battery. Which means you will not be affecting the life or integrity of your cars battery or electronics when using the CELLINK.B.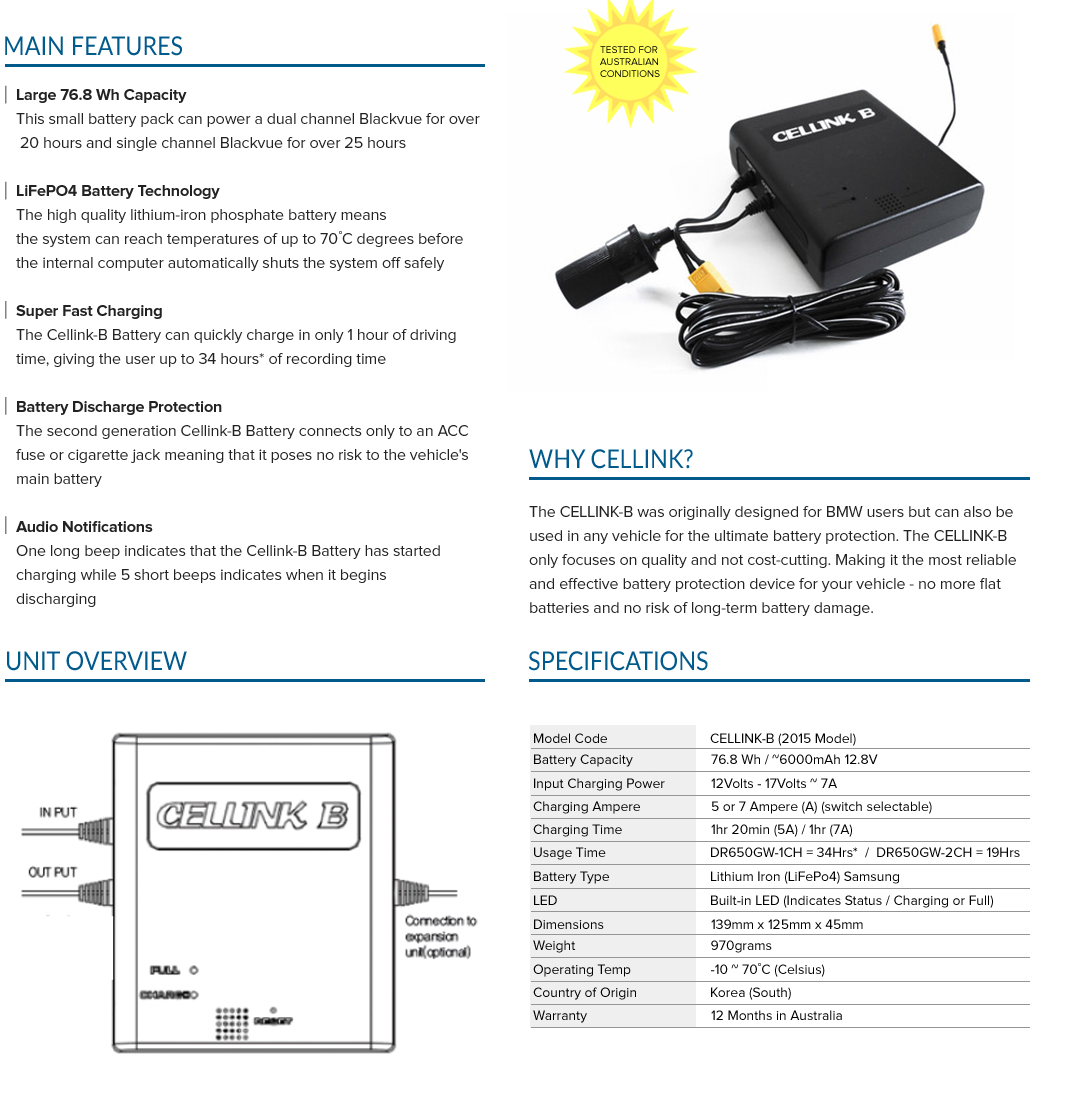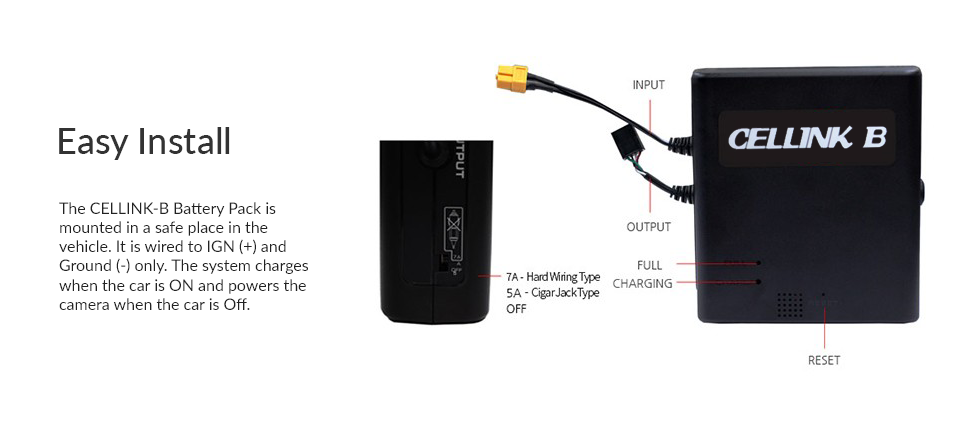 Product Videos
Cellink B Dashcam Battery pack lets you record whilst parked
09:36
A demonstration of the Cellink B a 12V battery pack that will keep your dash-cam running when your engine isn't. Click Show More to view UK & AUS purchasing links. PLEASE READ THIS BOX IF YOU ARE PLANNING ON COMMENTING ABOUT THE FUSE TAP! 1) ebay UK http://goo.gl/Cus51B AUS: http://goo.gl/w2fKP6 2) Amazon UK http://amzn.to/1P2KKyW 3) HDigital Store (UK) http://www.car-dvr.co.uk/cellink_b/powerbank/cellink_b.html IMPORTANT INFORMATION - I have been informed that when a Fuse Tap is used - the fuse that was removed from the car should go in the socket nearest to the pins on the fuse tap and then the new fuse (the yellow one in this case) should be inserted in the socket on the fuse tap that is furthest from the pins. Apologies for any confusion caused. The Techmoan channel can be supported via Patreon at https://www.patreon.com/techmoan To subscribe to the Techmoan channel click here: http://www.youtube.com/user/Techmoan?sub_confirmation=1 ------AFFLIATED LINKS/ADVERTISING NOTICE------- All links are Affiliated where possible. When you click on links to various merchants posted here and make a purchase, this can result in me earning a commission. Affiliate programs and affiliations include, but are not limited to, the eBay Partner Network & Amazon. I am a participant in the Amazon Services LLC Associates Program, an affiliate advertising program designed to provide a means for sites to earn advertising fees by advertising and linking to AMAZON Sites (including, but not limited to Amazon US/UK/DE/ES/FR/NL/IT/CAN)
Cellink B Dash...

A demonstration of the Cellink B a 12V battery pack that will ...
Find Similar Products by Category